Lizzy Sander qualified in 2003 from UWE Bristol with a 2:1 BSC (Hons) Physiotherapy degree.
She has worked since 2003 within the NHS. Her career first started in the Bristol Royal Infirmary, then transferring to Taunton NHS Trust to specialise in Trauma and Orthopaedic and finally returning back to Bristol to start work with Laura for South Gloucestershire PCT which then became Sirona Care & Health. Laura and I met in 2006 and we progressed working Senior Musculoskeletal Physiotherapists, then starting a musculoskeletal interface service which led us onto a Clinical Specialist post and then becoming Extended Scope Practitioners (ESP).
Lizzy's ESP Post was within the Clinical Assessment & Treatment Service in South Gloucestershire. She treated an array of Orthopaedicconditions and injuries. She has gained good links with local GP's receiving referrals, working within different clinics and communicating with them to aid management of musculoskeletal patients within the local community. Lizzy also gained experience in referring for diagnostic tests such as MRI's and X-rays and also administering corticosteroid injections.
Lizzy also works closely with Orthopaedic consultants and radiologists referring for specialist opinions, investigations and interventions and has experience both in the NHS and private sector. She also delivers high quality Physiotherapy treatment. This includes exercise prescriptions, electrotherapy,joint mobilisationsand manipulation.
She has got an impressive record of post graduate courses including a Masters level Physiotherapy module for clinical applications for musculoskeletal corticosteroid injections and being a member of the Acupuncture Association of Chartered Physiotherapists allowing her to treat an array of Musculoskeletal conditions with acupuncture.
Lizzy has a particular interest in shoulder injuries and rehabilitation being able to assess and treat complex shoulder conditions. She has strong links with the North Bristol Trust Upper Limb Orthopaedic consultants and acts as the shoulder specialist within MyPhysio.
Lizzy has a great passion for sport and used to play national league standard netball and basketball. She has also ran in a number of half marathons and completed in the London Marathon in 2011. She has also had experience of working with Thornbury Rugby Club treating their acute injuries and providing pitchside physiotherapy.
Now she regularly attends the gym and enjoys spinning classes inbetween looking after her husband and three young children and dog.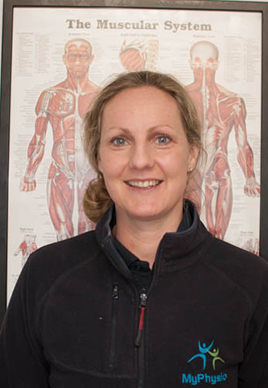 I've been with myPhysio for nearly six years and have had excellent treatment from the practice …..especially Lizzy Sander (nee Craft.) She has gone out of her way to help me – I value her expertise and support.  If asked, I would recommend this physio team